From the Comics Bin/Raves and Reviews:
I know comics still have this stigma of being kids stuff in America, but America has always been quick to label things. America has never been above being wrong. For your own edification pick up one of these comics, they're so good they will change your mind.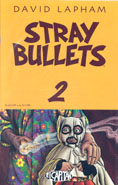 Stray Bullets- published by EL Capitan Comics, currently on issue #20, all of the issues are great, but if you can pick up the first two issues, you will stumble onto stories that will haunt you till you die. (okay, maybe not that long, but they're pretty damn good. Pulp fiction at its best.) Do you remember that feeling Goodfellas gave you in places, and Casino gave you in other places? David Lapham the genius behind this book manages to capture those feelings and distill them on paper. A true noir esthetic. For Mature Readers, only.
Faust- When I was in the military a lifetime ago,
someone turned me onto this comic. A decidedly Independent, definitely Adults Only book, it was like nothing the world had seen before or since. It was about death and sex, and how little we know about both. Written by David Quinn and drawn by one of the finest artists in the business Tim Vigil, FAUST: LOVE OF THE DAMNED was a violent, horrific tale, beautifully told, lovingly rendered, an 11 issue opus. And now the summer of 99 brings us an all new Faust Comic, a full color series published by the latest hot comic book company; Avatar. It's definitely not for everyone, but for those who understand Poe, what he wrote, and why he wrote, for those who loved James O Barr's CROW, you'll see in this graphic novel, something similar. Something beneath the violence, and sex, and rage. Something sad, and eloquent, and haunting.
Static-For a period of a little over three years from 93 to 96 a little known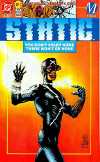 company called Milestone was producing some of the finest comic books in the genre. Tales of depth, and humor and warmth, that reminded us of the purer days, the glory days of comics. These books in a world of faded images, washed out Marvels, and a crumbling DC, were fresh and fun and vibrant (and unlike my other two picks this week, good clean fun, suitable for kids of all ages). The best of these Milestones was a universally praised comic called

Static. Writers like Robert L. Washington III, Kurt Busiek, Adam Bluastein & Yves Fezzani, all did outstanding work with this character, but I think everyone will agree it was the writing of a relative unknown, named Ivan Velez , Jr. that defined this comic, that made this comic something.. special. And it is a testament to Ivan Velez's stories that, so many years after the demise of this series and this company, the popularity of this comic continues to grow, and continues to win new fans. I look forward to one day seeing these issues of Static collected in a high quality hardcover format, and indeed to seeing the rebirth of

Milestone, and to seeing all new Static stories. But until that day hit your local comic book store and start picking up back issues of Static. You can get them relatively cheap, and you will not find a better read for the money. The closest thing I can compare these thirty-odd issues of STATIC to, is Ditko's run on Spiderman; the book is that good. Plus, they make great stocking stuffers for all the kids in your family.
(Sidenote on this: I've gone and done my homework on the rise and fall of Milestone. I've searched the web and literally everyone praises the line of books produced from this company. Basically as the pinnacle of just good basic comicbook storytelling, without the current cr*p of multiple covers, multiple endings, and swimsuit layouts that passes for stories, today. But I think Milestone came out during a very competitive time, and Todd Verbeek of Radio Zero, hits on the other reason for Milestone's week sales when he writes: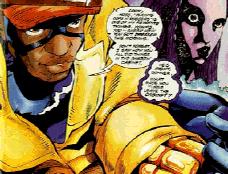 "There are a lot of people who never
tried reading any Milestone books when
the company was launched, many of
them doing so because they perceived it
as a "black" or "PC" line of books. I'd
recommend that they pick up this series
and give it a read... (it) typifies much of what
Milestone is really about: good stories
featuring good characters ".
People thought, myself included, that Milestone was going to be a message company, and quite frankly most people don't like to be preached to. By the time word of mouth got around and people actually started picking up the issues, Milestone had begun folding its tent. Like the original Star Trek show, that was met with horrific ratings during its initial run, but gained fame in reruns. I think if Milestone can mount a comeback, they can find a much larger, and committed audience this time around.)
Well that's it from the comics bin, check back next week when we'll have reviews of new comics as well as classics. Click below to begin where you began. And if you're looking to purchase any of these books but can't find them at your local comic shop please e-mail.