From the Comics Bin/Raves and Reviews:
Comic Reviews/Previews for week ending 28 May 2000
THIS WEEKS COMICS
28 May 2000
DAREDEVIL #10
QUANTUM & WOODY #21
TAXMAN ONE SHOT
NEW!!!Here's our growing Archive of MUST READ REVIEWS
CHECK OUT OUR NEW SECTION:BLOOD ON THE TIGHTS
WHAT I'M READING NOW
IN MY SIGHTS
UPCOMING COMICS
SPOTLIGHT ON ALEX ROSS
TO ORDER COMICS-I have no order cart yet, so the links below allow you to email me directly and I'll find the books you want at the best price available. Ultimately I want to, in a very competitive market, insure you get great items and that publishers of great products get the attention and support they deserve. A couple other places you can go to order these comics is the link above or go here to Mile High Comics. These are great guys and the president Chuck R believes in supporting small publishers and creators.
UPDATE: Chuck R. is still a great guy and my hero, but I've had problems recently with their NICE SUBSCRIPTION SERVICE so I can no longer recommend it , though I still wholeheartedly recommend their back issue service.
For new books, accurate invoicing and pricing, easy ordering and billing I've got to point you to WESTFIELD COMICS. Mary who works there is a customer service Saint and puts up with my frequent nitpicky questions and complaints.
WHAT I'M READING NOW
t
"And I'll give up forever to touch you...and I don't want the world to see me cause I don't think they'd understand; when everythings made to be broken I just want you to know who I am"
"IRIS" by the goo-goo dolls.
This song has been my mantra for the last couple of months. Sometimes it's the little things that keep you alive. Things like the song and my work, and you.
And you.
What am I reading this month, well attend:
"Then you really might no what it's like!"
by Everlast, another song that keeps me sane.
DAREDEVIL #11-Without doubt one of the best comics I've read in months.Written by new series writer David Mack and drawn by the dynamic art duo of Joe Quesada and Jimmy Palmiotti this issue really pulls out all the stops to create a sumptuous, involved and beautiful read.
I've never been a fan of David Mack's previous KABUKI work, but his take on DAREDEVIL definitely works. He writes about a MAN WITHOUT FEAR, but imbues him with enough of the other emotions, love, hope, whimsy, foolishness; to make readers care.
With some nice direction, and photorealistic effects, Joe and Jimmy turn in the best work of their career. Great issue as DD's new love interest and new villain turn out to be the same woman.
Grade: Excellent, this is the real stuff, baby. 10/10. If they can stay on schedule this title could be a contender for book of the year.
t
QUANTUM AND WOODY #21-A lot of comics I can't even work up the interest to read, they just stop grabbing me, and in a very busy life filled with debt, lot's of debt, taxes, mind-numbing-soul sapping work, the never-ending search for wife #4c, working on the great American novel, and the occasional psychotic episode; I have no time and no patience for bad comics. Also no money.
Hence I'm always impressed when a book can jump in my hands and demand to be read. QUANTUM AND WOODY by Christopher Priest and Oscar Jimenez is one such book. Priest has one of the most involving narrative styles in comics, his cut and move approach working to grab the reader up and keep him moving through the story. It works.
Priest stories are always confusing, manic reads. That's one of my complaints against Priest, his stories tend to be unnecessarily confusing and obtuse at times. Whole pages done in French, (and from what I've been told, bad French) , stories that hinge on knowledge of economic indicators to really understand the ramifications of what's happening, and why (see Black Panther). I have no problem with writers wanting to challenge their readers (though I get the feeling like one letter writer stated in this very issue, that it's a case of "trying to show off", I've got no problem with that as long as you can back it up, and don't hurt the story), but if you're going to make a puzzle rather than a story, give the readers the clues they need to decipher the story. His work particularly on Black Panther is beginning to needle me.
That having been said though, even when Priest is telling a muddy, unclear story he tells it so damn well. He moves you from enthralling scene to enthralling scene faster than you can ponder the confusion. It's a good trick, and usually works.
This issue "REBIRTH" is one of his more straightforward efforts, and hence is a very good read. It shows off that quirky, tight characterization, and great ear for dialogue, and humor that Priest does better than anyone on this side of the Atlantic.
Okay this issue in a nutshell is about ...hmm, that's also the beauty of Priest's work it transcends catchphrases. It's too involved and layered to be summed up easily or well. It's like an Altman film.
A time and space traveling goat, suing comicbook companies, hardluck editors, the holy trinity, a beautiful god, and the death of a moon. And friendships that persist.
QUANTUM AND WOODY, if you're not reading it, my advice? Start. Grade: Great Read 9/10.
t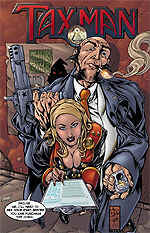 TAXMAN ONESHOT- I love getting work by new talent. Guys who are out there on the edge and with nothing more than sweat, blood, determination, and talent fighting the good fight.
Young Poes fighting the good fight.
Last installment it was EMISSARY and TRAVELERS, this time it is TAXMAN by Comics Conspiracy. Written by Doug Miers, drawn by Don Walker and Jason Maranto, with colors by Kevin Senft, this book from cover to cover captivated me.
The story of a future America where even the air we breathe is taxed. Doug Mier tells a fast paced, captivating, cautionary tale... that works. A beautifully drawn tale of an Orwellian America ,revisited in huge letters that spell.. I R S. I got the feel when I read this book, the same feel I got when I picked up THE CROW so many years ago. The feel I got from Stray Bullets, and Eddy Current, and Floyd Farland, and Faust, and AKA GOLDFISH,and Miracleman. The feeling of talent that matters.
My find of the month. And check out that first page, great photomanipulation by DM. Grade: Great Book. 9/10. Pick it up.
t
It's very easy in a market full of twenty different mutant, or superman, or batman, or spiderman books taking up shelf space for the best of what's out there to get lost. Don't let that happen.
Let your comicbook store owner know of these titles, know of your interest. Take this review with you and slap him with it. All books can be ordered from the handy dandy links above, or if they fail you you can always email us here at Ramblings and we'll locate it for you. These guys, these independents are bleeding their guts out, they deserve your support.
IN MY SIGHTS
I'm not a regular subscriber to Wizard magazine, I've picked it up 3 times in the last twelve months, so take what I'm about to say with the proverbial grain of salt.
Can someone explain to me how Christopher Priest is not on their TOP TEN LIST? Cause I'm not getting this. Priest's books are consistently on every reviewers must read list, and outside of the triumvirate of Brits, his work (with the exception of Kurt Busiek) is the best of the yanks. Come on WIZARD, wake up and read the books, and give the Yank his due.
t
SPOTLIGHT ON ALEX ROSS
KINGDOM COME is the work that got me back into comics after having given up on the medium for years. Not a week goes by without me flipping through this pivotal work ( I have the hardcover version). Originally in the first installment of RAMBLINGS I had given the credit for KINGDOM COME to Mark Waid, which is understandable considering his name is on the book as writer.
But it's been brought to my attention Mark Waid had very little to do with KINGDOM COME, that KINGDOM COME was the brainchild of Alex Ross. His idea, his story, his mythos, his vision. He brought it to DC, but they wanted a proven writer to helm it. Eventually Mark Waid was brought in. But its obvious what is best in this work is all Ross.
After KINGDOM COME I picked up everything Mark Waid did, his FLASH, his KINGDOM series, his CAPTAIN AMERICA, even his guest shots on JLA, and what struck me was how poorly everything compared to KINGDOM COME. How the writing, the gist of it, the point of it, just didn't match the tone of someone who could write KINGDOM COME. I ended up dropping all those books. The work just was not for me. (Though I'm hoping Mark Waid's JLA with the art of Bryan Hitch and Paul Neary, lives up to the hype)
It became obvious Alex Ross was where it was at, that he was more than just the best artist to grace comics, he was one of the best storytellers. He had ideas, his work said something, about who we are, about who we aspire to be. His name on a title being synonymous with an attention to detail and quality that the medium has rarely seen.
He is more than just a cover artist for KURT BUSIEK'S ASTRO CITY he is a conceptual designer. Helping shape the look and feel of that series. He is the originator of Marvel's EARTH X, and he's also the heart behind two of the best one-shots of the last couple of years. SUPERMAN: PEACE ON EARTH and BATMAN:WAR ON CRIME. I love the oversized format of these works, perfect to showcase the work of the best artist in the medium (my only qualm, is the binding isn't too good on these books. If you open it too wide you run the risk of the pages falling out. I've read that in the Brazilian version of these books the binding is sewn rather than glued, and hence you can actually open up the book, and really appreciate the art). His posters are collectors items that quickly sell out across the country, and his work brings top dollar on the auction circuit. In short Alex Ross by himself is a cash cow, generating revenue for an entire medium. Looking forward to getting his Earth X Lithograph(i.e. big poster) which I just preordered.
Because of Ross' attention to detail, and his commitment to quality, fully painted artwork; his output is by necessity smaller than most artist who work in this medium. Since 93 his output consists of three mini-series, 2 one shots, and a truckload of posters and covers. But his work is definitely worth waiting for.
There's talk of him doing another ElseWorlds mini-series with Evan Dorkin. A light-hearted version of Kingdom Come. Whatever Alex Ross decides to do, odds are good that's its going to be a sell out, and odds are even better I'll be their to support it.
UPCOMING COMICS
Items to be on the lookout for:
MARVEL
Avengers- Kurt Busiek and George Perez seem to have run out of steam on this title, much the way Grant Morrison ran out of steam on JLA (but not that bad thank goodness). It's been a good run guys, pat yourselves on the back and go out with a bang. I'll keep an eye out, but for the time being I've dropped it from my monthly purchases.
By now it should go without saying that you pick up BLACK PANTHER, DAREDEVIL, and PUNISHER.
DEADPOOL #44 - (Priest/Calafiore/Holdredge) Cat Trap part 1 of 2. The crossover with Black Panther begins. The Merc With The Mouth meets the Urban Avenger in a major clash of personalities. Continued in Black Panther #23. Cover price $2.25. I'm not a fan of deadpool but I would recommend picking this issue up just to see what Priest can do with the character.
IRON MAN #32 - (Quesada & Tieri/Martinez/Hunter) The Sons of Yin Sin part 2 of 3. Has the armored Avenger joined forces with the Sons of Yin Sin? Touring their flying technological utopia, Iron Man learns this strange group's innermost secrets. Cover price $2.25 I here Quesada is doing some good things with this character. Grab issues 31, 32, and 33 and see for yourself.
That pretty much does it for Marvel Comics. You all know that I despise their mutant and spidey lines. Alex Ross is coming out with his Universe X, but I was surprisingly underwhelmed by his Earth X. My recommendation rather than paying $3 to 4 for each issue just wait for the series to wrap up, and for the trade or hardcover to come out. Better paper at a better price.
DC
Of course I recommend the usual suspects of HITMAN, ORION, 100 BULLETS(this title is starting to get a little shaky), HELLBLAZER, PREACHER, AUTHORITY, JENNY SPARKS,
FLASH #164 - (Geoff Johns/Unzueta/Hazlewood) Wonderland part 1 of 6. His connection to the Speed Force severed, Wally West finds himself jailed in a world that claims there never has been any hero who called himself the Flash. Beaten at the hands of the local police - including an officer who strongly resembles one of his oldest enemies - Wally is sure that he's just found his way to another Hypertime reality. But he's wrong. Cover price $2.25 This actually sounds pretty good. I dumped this book a while back, but with a new creative team it might be e worth a look.
HUMAN TARGET TPB - (Peter Milligan/Edvin Biukovic) Collects the mini-series that reinvented one of DC's signature characters from the 1970s. If you're in danger, if being recognized guarantees your death, you call Christopher Chance, the Human Target. A master of impersonation, Chance is an assassin's worst nightmare - they never knew what hit 'em. But what happens when a job is over, when the blank slate called Christopher Chance must face the messy business of being himself? A seemingly routine case - impersonating an African-American minister with a fat contract on his head - proves to be anything but ordinary, as Chance finds himself caught between a relentless assassin and a brutal gang war. 104 pp. MR. Cover price $12.95
TOM STRONG BOOK ONE HC - (Alan Moore/Chris Sprouse/Al Gordon/Arthur Adams/Jerry Ordway/Dave Gibbons/various) An America's Best Comic. Reprints Tom Strong #1-7. A physical and mental superhuman, Tom's complex history is revealed not only in the collection's first story How Tom Strong Got Started, but in issues showcasing Tom's beautiful wife Dhalua, daughter of a mighty chieftain; Tom's and Dhalua's illustrious daughter, Tesla; the enhanced ape King Solomon; and Tom's robotic valet, Pneuman. Tom and his allies face a range of enemies that includes the ruthless, Moriarty-like foe Paul Saveen; the mechanized Az-Techs; a pre-human monster called The Pangean; the Modular Man; and Nazi super-woman Ingrid Weiss. 208 pp. Cover price $24.95. Moore who spread himself too thin to bring any of his admitedly excellent books out on time, had a hard time keeping an audience. I pretty much gave up on all of his books except Top Ten, so this Hardcover is a great way to get the complete story in one sitting. I'd say go for it.
IMAGE
The usual suspects of SAM AND TWITCH,
BUTCHER KNIGHT #1 - (Charles Holland/Dwayne Turner) Luther Washington is a man who is also a monster. Centuries ago his name was Lancelot. He was caged in the statue of the most fearsome of gargoyles, Butcher Knight, for 1700 years. Now, the gargoyle and the man are free, thanks to a half-demon Witch named Daria. Cover price $2.50

CITY OF SILENCE #3 - (Ellis/Erskine) A psychotic by the name of Metalghost is conspiring to wake up the City of Silence, and when the Silencers track the trail of the silicon pentagram to his door, they find that he's not only a murderer, but creator of the machine called Invoke, the computer that can raise Hell. Cover price $2.50
MESSENGER - (Jerry Ordway) The tale of a man haunted by his past and his gift to "see" into the mind of anyone he touches. This man, The Messenger, uses this power to determine the absolute guilt of accused murderers and other criminals. But what happens when he discovers that his "gift" wasn't infallible; that he has the blood of innocents on his hands? 48 pp. Cover price $5.95 This sounds interesting, but it's also really expensive for only 48 pages.

RISING STARS #9 - (Straczynski/Zanier/Livesay) In the first act of the series, the world shaped our characters. Now our characters begin to shape the world, and the world may not be very happy about those changes. RECOMMENDATION: What Straczynski did for science fiction on television with Babylon 5, he does for super heroes in Rising Stars. If you've never tried this fascinating look at costumed heroes and villains, this issue sounds like a great jumping-on point. (Roger A.) Cover price $2.50 That recommendation is not from me, but from Westfield Comics. My personal take is Straczynski made television history with Babylon 5, taking a series I innitially hated and crafting it into fine literature, a five year epic poem, epic novel, for television. He did for television what Garth Ennis in PREACHER has done for comics. So far Straczynski's RISING STARS has been anything but epic. Point of fact I hate the art on RISING STARS, the story is rehashed and plodding, and everytime I go to write it off., one thing stops me. The knowledge that from an awful start with Babylon 5, Straczynski went on to create a series that ruled. So if there's anyone you don't want to write off it would be this guy. I really can't recommend this series, but for myself I'm going to stick with it a little and see if Mr. S can create another Epic.
SKINNERS #1 - (Mat Broome & Sean Ruffner/Mat Broome) Brings high end special effects and computer generated nurb-based models to the comic book medium. Enter a world where man's domestic production has corrupted the Earth. But at the center of mankind's despair is hope in an ever-evolving environment. Phen, ruler of a totalitarian empire, is regarded as the salvation of mankind. However, an underground resistance known as Jacob's Gate fights to reveal the truth that Phen is the source of human adversity, and the prophesied One Percenter is the Key that unlocks man's destiny. Available with 4 covers by Joe Maduiera, Pat Lee, Andy Park, and Mat Broome. These covers will be sent randomly unless ordered as a set. Cover price $2.95 Well it sounds cool, but the artwork I've seen looks pretty stupid. Try it and see for yourself.
VIOLENT MESSIAHS #2 (TONE RODRIGUEZ COVER) - (Dysart/Rodriguez) Cheri Major, some hero. She's plagued by nightmares, caught in politics and fending off the advances of a detective. For the first time in her life, she feels as though she's lost control. That's too bad because the Violent Messiahs have only just begun to raise hell. Cover price $2.95
WICKED #7 - (Takenaga/Martinez) A resurrection of "zombie" activity in Haiti is a sign of a powerful Wicked coming to surface. Wendy discovers that The Wicked in question is the same one who once held her soul captive. Cover price $2.95. I haven't had time to review this series for you, but let me tell you it rules. I'm hugely impressed with it and the artwork by Martinez is some of the most beautiful since Anacleto's work on ARIA, and some of the most erotic since Vigil's work on FAUST.
WITCHBLADE #42 - (Jenkins/Cha/D-Tron) Sara Pezzini's got some serious problems. She's starting to wonder if she's really in control of the Witchblade, all the while trying to keep quiet the voices she hears in her head. Cover price $2.50. Witchblade has always been pretty much a forgettable t&a book, but now with Jenkins writing it, it might actually be worth a look.
MISC. INDEPENDENTS
THE USUAL SUSPECTS OF QUANTUM AND WOODY, PROPHESY OF THE SOUL SORCERER, BLAIR WITCH CHRONICLES
TALES OF HIP-HOP HORROR #3 - B&W. (Adams/Ameling/Fix/Gaddis/Slick/Smiley/Sublet/Williams/Yu) The Last. The horror trilogy concludes with this venture into the human psyche. The victim can't run when the threat comes from within. 64 pp. MR. Cover price $2.95 THE Last issue in a great trilogy. A 64page OverSized Comic for only $2.95. That's one of the best deals in Comics.

SAY WHAT?! #1 Gettosake Comics B&W. (Maurice Love) Join Mort and the gang as they make the transition from high-school life to adulthood. It won't be a smooth transition, but it will be hilarious. 24 pp. Cover price $2.25
FINDER #18 - Lightspeed Press -B&W. (McNeil) Success is the epilogue to The King of the Cats storyline, in which the new king is chemically crowned, the Shadowless Council convenes in the flesh, and Jaeger finally gives the devil his due. 24 pp. Cover price $2.95

FORTUNE & GLORY: A TRUE HOLLYWOOD COMIC BOOK STORY TPB - B&W. (Brian Michael Bendis) Marvel once again at the stupidity of Hollywood producers, the vanity of stars, and the enthralling mood swings and ego nosedives of a little indie comic-book creator caught up in the maelstrom of the motion picture industry. Features brand-new pages left on the cutting-room floor in the original comics. Introduction by Paul Dini. 128 pp. Cover price $14.95

PENANCE #2 (Red Anvil) - (Ryan/Palmiotti) Each of the 20 gemstones connected to the mythologies of Earth are a conduit to the gods' powers. Humanity races to attain the gemstone that will bestow upon the wearer the power of a god within that mythos. With 10 gems already possessed; evil is tipping the scales to their favor. MR. Cover price $2.95
THE MARQUIS: DANSE MACABRE #1
by Guy Davis
Here's the synopsis of this title from this month's PREVIEWS:
It was during the 18th century that the Ministry of Inquisition ruled over the lands of Venisalle. In the world of the Marquis, faith is not only the religion but the strict law of life and death. It is into this world that the souls of Hell have escaped to sin, murder and be free within the possession of the living. During this time, one man has been "blessed" with the ability to see into the very souls of the damned and fight the demons within. But as the Marquis begins his holy crusade to send back the escapees of Hell, the lines of good and evil begin to blur into a struggle between faith and sanity. The long-awaited new mini-series from Guy Davis, creator of Baker Street and artist on The Blair Witch Chronicles and Sandman Mystery Theatre, has finally arrived! A full 32 pages of story and art. Cover by Matt Wagner.
MATURE READERS
b&w, 32pg (1 of 5)..........$2.95
Basically the look of that cover, and that synopsis makes me think of the shadow transported to the middle ages, and I'm a huge fan of the whole spirit of vengeance routine. Preorder your issue here.
A "Screaming" Good Time
Gorrister, the suicidal loner; Benny, the mutilated brute; Ellen, the hysterical phobic; Nimdok, the secretive sadist; and Ted, the cynical paranoid all have something in common. They are tortured with their darkest fears by an insane master computer, AM. Based on the Ellison short story, I Have No Mouth, and I Must Scream, this CD-ROM is both compelling and disturbing, bringing you an adventure you will certainly not forget! This game has fully digitized speech featuring over 40 characters and the best state-of-the-art animation. Do not mss out on the adventure of a lifetime. This CD-ROM has to be seen to be believed!
I haven't played or bought a game in over three years, I have just not had the time nor the interest. This game interests me. I'll give it a try. If you'd like to order a copy you know what to do.
Well that's it for this installment, thanks for viewing, hope you enjoyed this installment half as much as I enjoyed bringing it to you. Look forward to getting your views on my blatant opinions. And till next time.... Excelsior!
HAVE A COMIC YOU WOULD LIKE REVIEWED?
Send it to: HEROIC TIMES
3681 Offutt Road, #203
Randallstown, MD 21133
PRESS RELEASES or Breaking News, tips, rumors
Please E-mail to: heroictimes@hotmail.com

Hey guys I love to get your feedback on these reviews, as well as your recommendations and reviews of books you think I'm ignoring. Click here to inform me. This is your chance to be heard, plus it's free. So what are ya waiting for, get to typing. (only messages with e-mail addresses will get a response)

mail me heroictimes@hotmail.com to know when I update and add new reviews.